12 Warning Signs To Look For When You're Home For The Holidays
If you're going home for the holidays to elderly parents, there are some things that you should be on the lookout for.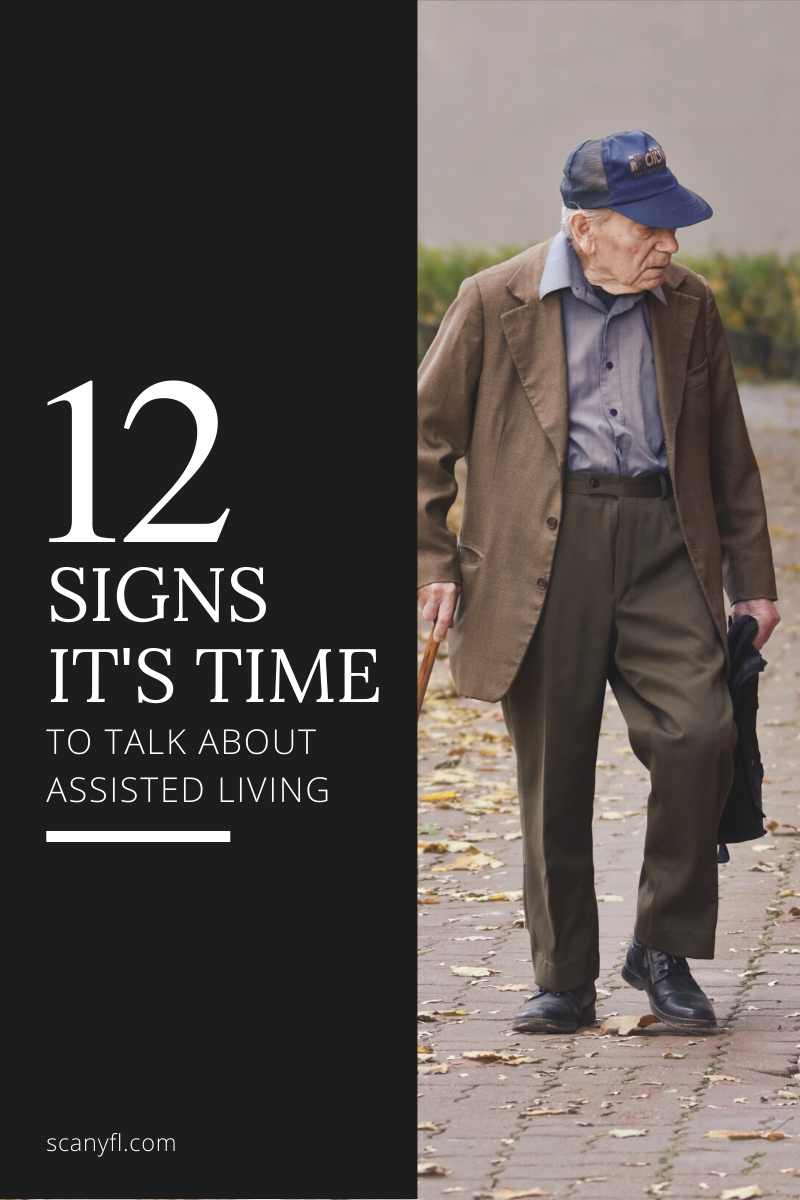 Many of us have plans to spend time with our parents and family this holiday season. For many, it has been a year or more since we were last together because of travel restrictions. As our parents age there may come a time when living independently is not realistic any longer. It may be as simple as updating their home, or it could be time to consider assisted living. Here are some things to look for when you're home this year.
General Appearance Take a good look at mom and dad. Do they look as you expected, or have they changed? This could be a telltale sign that something is amiss. If your parents are no longer taking care of themselves, it may be time to seek professional assistance. Neglecting personal hygiene is a common symptom of aging.
Difficulty with one or more activities of daily living
Bathing, preparing meals, using the bathroom and keeping up with the yard become more challenging with age, but if things have deteriorated noticeably, take note. Being able to properly care for oneself is a basic necessity for staying healthy. If you're noticing that your elderly parent has begun to struggle with basic hygiene and/or meal preparation, it's definitely time to think about what options there are for getting them help, especially if you do not live near them.
Risk of falls If you notice cuts or bruises, this could be a sign of an injury from a fall. Ask your parent(s) how he/she got injured. If it was from a fall, ask if this has happened more than once recently and find out what they were doing when it happened. Did they just trip over the cat, was there any dizziness or fainting? Did they have to seek medical attention? Falling can result in serious injury if the person is unable to get up or to seek help. However, falling does not mean they need to move to a full time care community, it may just mean taking actions to prevent falls around the home and investing in a senior alert system device.
Wandering from home and/or getting lost If you notice your parents have begun wandering off or getting lost on routes they should know well, this could be a sign of memory loss. Make an appointment and go with your parent to see their primary care physician. A doctor can professionally assess what has been happening and help you understand the diagnosis and prognosis.
Emergency Medical Services has been called to the home in recent months If there have been frequent medical emergencies that required EMT's to be called, evaluate the reasons they were called and what the outcome of the situation was. Your parent might be safer in a place where there are medical staff available 24/7.
Unable to remember to self-administer medications or medications are expired If your parent has begun forgetting to take their prescribed medication when they are supposed to take it, their health is at risk. Something as simple as a pill organizer could help them remember, along with setting an alarm on their phone. Test out this option while you're there to see if it helps. If not, you may consider an in-home care professional.
Normally outgoing, has become withdrawn or secretive This could be a sign of depression or dementia. Having a neurologist evaluate this condition is highly recommended if you notice this behavior and there is no legitimate reason for it. Talk to your parents first and let them know you've noticed they aren't acting like their normal self. It could be something as simple as them being tired, or it could be a sign of something more serious.
Unsanitary living conditions; no longer keeping house clean If you notice that the house is no longer as tidy as it used to be, laundry is piled up and they may even be wearing dirty clothes, the dishes aren't clean, etc., it could be a sign of dementia, or that housekeeping has simply become too tasking for them. Talk with your parents about it and see what their thoughts are.
Repeating questions or making multiple phone calls asking the same questions It is normal to be a little forgetful from time to time, but when it becomes noticeable and begins happening regularly, it is probably time for an evaluation by a healthcare professional. A doctor will be able to tell you if they think it is a serious problem or if it could become one.
Confusion, agitation, unfounded accusations or suspiciousness These behaviors are definitely a red flag. If your loved one is exhibiting these behaviors, discuss it with them first to try to uncover a legitimate reason. If you are not able to do this, schedule an appointment with their doctor for an evaluation. This could be a sign of dementia.
Suspicion of dehydration and/or malnutrition Take a look at the food in the cabinets and fridge. Are they stocked with staples and items to be able to prepare a meal? Or is the fridge empty? Are canned and dry goods expired? Does it seem like your parents are having difficulty reaching items that are high up or down low? The fix may be as simple as rearranging things to make them more accessible, or it could be more serious. It may surprise you to learn what the effects of dehydration and malnutrition are, especially in older adults. Both can cause your loved one to have hallucinations, feel agitated, aggressive, become ill and a long list of other issues. It is important to figure out how they have come to be dehydrated or malnourished (see #6) and to find a solution right away.
Unsafe behavior Leaving exterior doors or windows open when it is cold outside or forgetting something like turning off the stove after cooking poses many dangers, such as someone getting burned or starting a fire. If you are noticing dangerous behavior like this, decide if it is an isolated incident or if there are several dangerous behaviors being exhibited.
If you do begin noticing your parents displaying more than one or two of these behaviors, it is probably time to fully assess the situation and start discussing the options. If you are not sure what the options are, there are places like Senior Care Authority®, that specialize in senior care planning. They will talk with you to help you understand what is happening and can do a non-medical in-home assessment to evaluate the severity of the situation. They may recommend having a medical assessment done by a doctor, as well.
After they have a good understanding of the current state of affairs, your Senior Care Authority® advisor will work with you to come up with a care plan and help you understand all of the options available, such as in-home care, assisted or independent living communities, or memory care communities if your loved one is suffering from Alzheimer's or dementia.
Senior Care Authority® of New York and Southwest Florida helps families understand the process of aging and the options and resources available. They are senior advocates and provide assistance with placement in assisted or independent living communities, including memory care options.
Cynthia Perthuis, owner of Senior Care Authority® of New York and Southwest Florida, opened her business after her own experience of caring for her elderly parents and not knowing about the resources available to help her when she needed them the most. Her team helps hundreds of families every year to find the right choices.
If there is an elderly adult in your life who has begun facing challenges, please reach out to us at Senior Care Authority® of New York and Southwest Florida. Our knowledgeable, experienced Advisors will answer your questions and help you and your loved one transition to the next phase of life. We will be there with you every step of the way.
Recent Posts