4 Reasons Pickleball Keeps Your Brain Strong
There are four area that you should focus on for maintaining a healthy brain: Exercise, Cognitive Activity, Social Engagement and Diet. Find out how Pickleball ties all 4 together.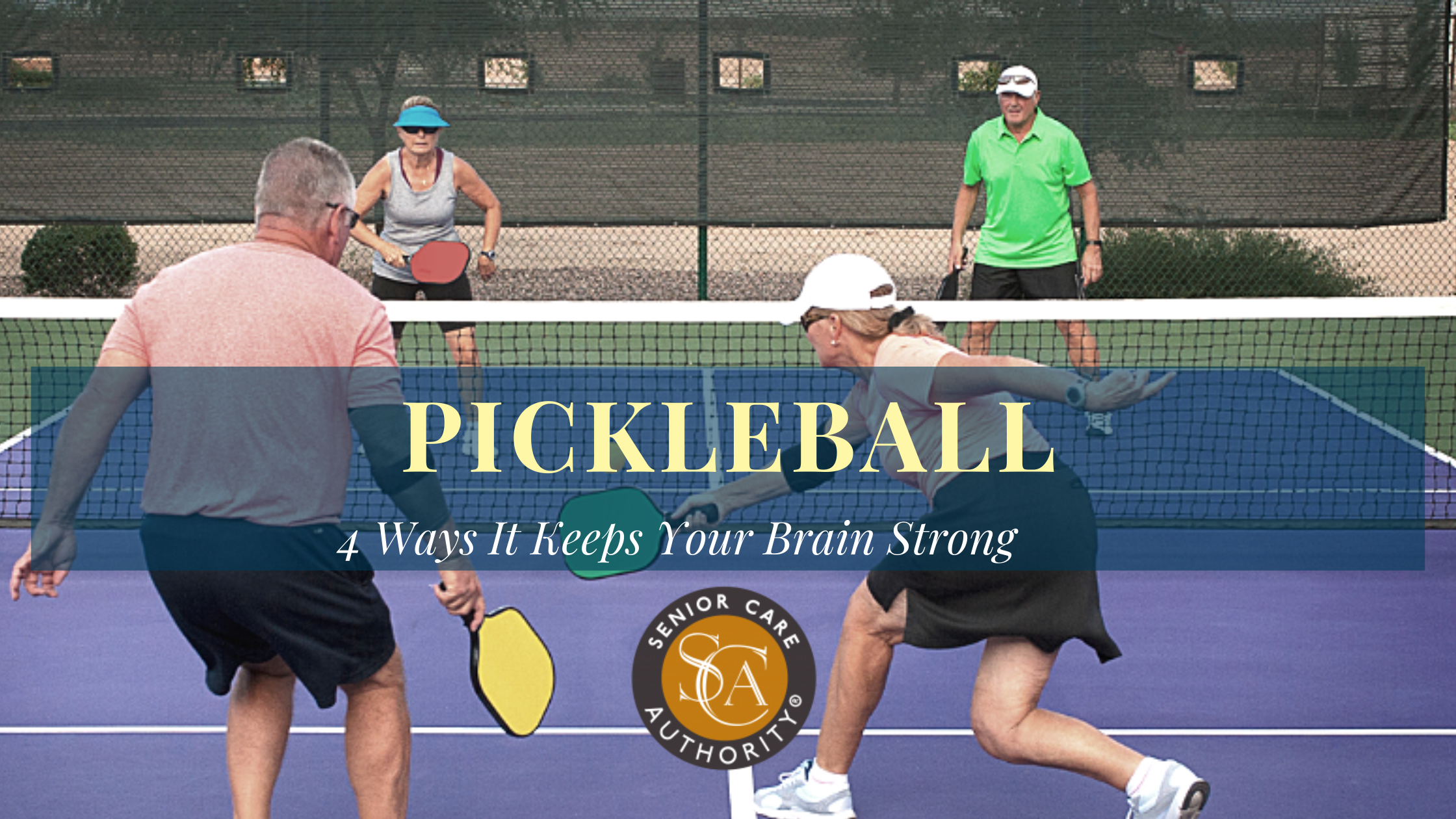 Everybody I hang out with is playing pickleball. Said another way, I only hang out with people that play pickleball. I shop on pickleball websites. And I watch pickleball tournaments on YouTube.
I read pickleball websites for helpful hints. I play pickleball every chance I get. And I search for pickleball courts when I travel. My pre-dating checklist has replaced "bank account" with "rated at least 3.5 in pickleball". Bonus points go to the partner that owns their own ball machine.
Now in its 56th year, pickleball is the fastest growing sport in the world with over four million players in the United States. According to USA Pickleball, 60% of players are over the age of 55. I could go on all day.
Pickleball Keeps Dementia Away:
One very important thing that I do with pickleball is use it as a teachable moment for my clients around the importance of keeping our brains healthy to keep dementia as far away, for as long as possible.
"We should all focus on Exercise, Cognitive Activity, Social Engagement and Diet every day to make sure our minds are at their peak as we age."
There are four areas of your life that you can pay attention to that will protect your mind in a healthy way. We should all focus on Exercise, Cognitive Activity, Social Engagement and Diet, every day to make sure our minds are at their peak as we age. I encourage you to find something that keeps your brain healthy and stick with it. Pickleball satisfies each of these areas for me.
Four Reasons Pickleball Keeps Your Brain Strong:
1. Exercise:
Pickleball is a sport that involves moving around a 20' x 44' court with a paddle and a whiffle ball. Most people play doubles and, the ones in my neighborhood, are much older than 55. The exertion is as low or as high as you choose and it is easy to work your way into the game. Always, always, always talk to your doctor before adding a new activity and always, always, always stretch before, during, and after.
2. Cognitive Activity:
Pickleball is a game of strategy and points are won, not on brute force or strength but on strategic placement and well-thought-out plays in the game. There are some convoluted rules that take a little while to comprehend. It is also a little bit of a dance and learning the choreography of the setups and player positions requires some thought and attention. The scoring was not something I was used to and now, I pay very close attention so that, while I may not be the best player, I certainly can keep score.
In a good pickleball game, there is a good amount of dinking. A dink shot is a soft and low shot close to the net. The dinking portion involves strong eye-hand coordination. This portion of the game improves memory and attention.
3. Social Engagement:
Every game is a party. My home court is the Naples Pickleball Center also known as The Pickleball Capital of the World. With 64 courts, there is always room to play and people with whom to play.
Each game is usually with an entirely new set of partners. It is important that you learn their names. You can make more friends if you learn about their backgrounds and hometowns. As a prolific networker, I am also trying to match people up with who they know or should know. I want to try to have a little something to discuss between games. The name game is also another way to improve your memory.
"The name game is also another way to improve your memory."
4. Diet:
After a long morning of exercise, strategy, and socialization, it is always a great treat to enjoy breakfast or brunch with your new and old friends from the court. Because we have been trying to be healthy, our meal of choice is usually very healthy. We are not going out for beers but going out for an acai bowl and we are always focusing on hydration.
Volunteer Work Around Pickleball:
One thing that I did not mention at the beginning is that I do a lot of volunteer work around pickleball including raising funds for the Alzheimer's Association. I have been working very closely for the past few months with the Naples Pickleball Center to encourage play, all over the country, to raise funds for research towards a cure for Alzheimer's.
I have found that every single person on the courts has been touched, in some way, by the disease. Maybe it is not a direct family member but it may have touched the family of a friend or a co-worker.
Alzheimer's By Playing Pickleball:
The Longest Day® is the one day each year with the most light — the summer solstice. You can join the Alzheimer's Association® in standing up to the darkness of Alzheimer's by playing Pickleball, or through an activity of your choice to raise money.
Together, we'll raise funds and awareness for the care, support and research efforts of the Alzheimer's Association. Please join me at alz.org/naplespickleballcenter. You can register your pickleball team and find other teams in your area to join. Make Pickleball your jam and keep your brain strong. I am pretty confident that you will enjoy it as much, or more, than I do.
About The Author:
Cynthia Perthuis left her cushy life in Corporate America in 2018 to use her personal experience with her parents and her entrepreneurial background to help the 10,000 people a day turning 65 in the US. The stress of helping aging loved ones and working full-time and caring for her own family while living over 1500 miles apart was overwhelming at times. She often wished there was a non-conflicted industry professional to help when facing these life-changing decisions. She has created her team at Senior Care Authority (www.scanyfl.com) for that purpose. Her team supports over 300 families a year as they navigate these decisions.
Cynthia is originally from Texas and holds a degree from Baylor University. She has made her home, for the past 18 years in New York City and recently added a home in Southwest Florida. She enjoys travel and outdoor activities and has practiced yoga regularly for over 15 years.
Recent Posts