Embracing Change: Dorothy's Adventure to Assisted Living
Life can throw unexpected curveballs that lead us on exciting new journeys. Dorothy, a strong and independent woman, found herself facing a decision that would shape the next chapter of her life.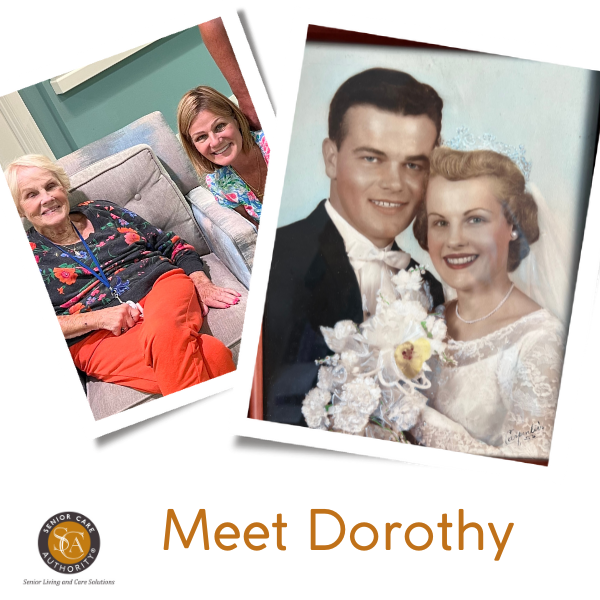 Imagine this: Dorothy, a lively and independent woman, was enjoying a visit with her daughter and son-in-law in beautiful Cape Coral. Little did she know that this vacation would mark a turning point in her life. During her stay, she had an unfortunate fall that sent her to the hospital. It was a wake-up call for her family. Should mom move into assisted living? Was it safe for her to live alone in Ohio, where she did not have any family?
After her hospital stay, Dorothy expressed her determination to return to her home in Ohio and maintain her independence. However, fate had a different plan. A few months later, Dorothy experienced another fall. This event became the catalyst that led her to move to Florida and into an assisted living community, closer to her daughter Julie.
Dorothy and her husband, who had been married for an incredible 60 years, originally hailed from Akron, Ohio. Their love story began during Dorothy's freshman year at a high school football game. Ah, those spaces between the bleachers, where Joseph awaited the chance to meet Dorothy! Together, they raised three beautiful daughters who now reside in different states, including Texas, Chicago, and Florida. Dorothy also has a sister living in Bonita Springs, Florida, which made moving to Florida the right choice for her new home.
Julie, Dorothy's daughter, expresses her heartfelt gratitude for the assistance they received from Senior Care Authority. "Their expertise made a significant difference, as they helped narrow down the choices and made the entire process easier." Julie also noticed the exceptional quality of the staff and the meaningful interactions, especially during the move-in process. Both Julie and Dorothy are excited about the prospect of being closer to one another and the opportunity for Dorothy to connect with her peers.
Moving into an assisted living community is a decision that many elderly individuals face at some point in their lives. It is a choice that requires careful consideration, considering various factors such as health, safety, and social well-being. Dorothy's journey serves as a poignant reminder of the importance of family, support, and finding a place that feels like home.
As we age, our needs change, and transitioning to an assisted living community can provide numerous benefits. Safety measures are in place to minimize accidents and ensure immediate assistance is available if needed. The presence of trained professionals can offer peace of mind, not only to the residents but also to their loved ones. Additionally, the opportunity for social interaction and the chance to connect with peers can combat loneliness and foster a sense of belonging.
It's essential to remember that moving into an assisted living community is not a loss of independence, but rather a new chapter filled with opportunities for growth, companionship, and personalized care. Every individual's journey is unique, just like Dorothy's, and it is crucial to find a community that aligns with personal preferences and needs. While it may initially seem daunting, the support, safety, and social aspects offered by these communities can greatly enhance quality of life. Whether it's finding a community near loved ones or simply seeking a fresh start in a new environment, the decision to move into an assisted living community is an opportunity for seniors to embrace change and embark on a new and fulfilling chapter of their lives.
Recent Posts