How Senior Living Communities Prepare For Natural Disasters
Find out what senior living communities do to prepare for natural disasters, what they do during a mandatory evacuation, and how they ensure your loved one remains safe before, during and after the event.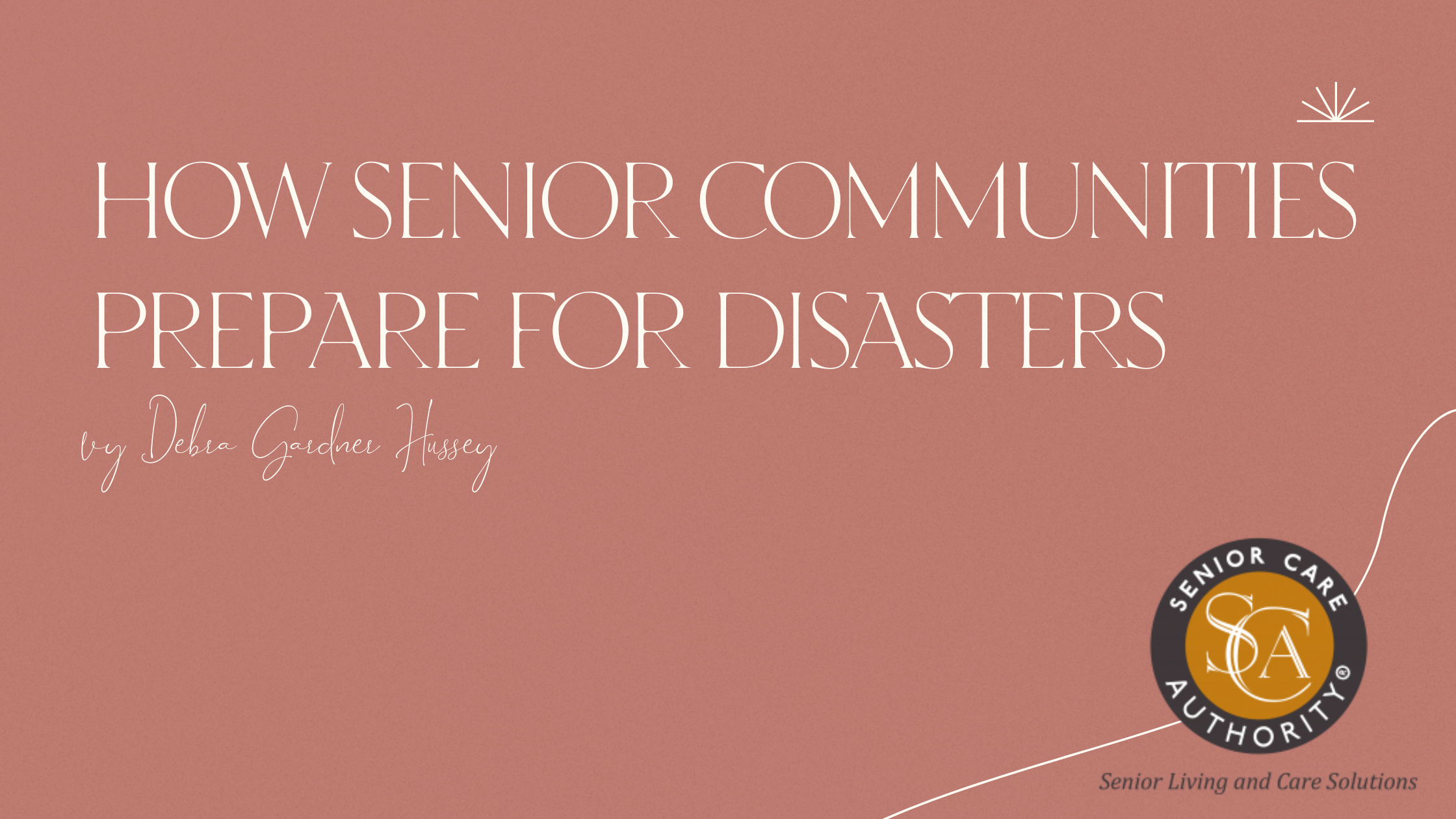 Senior living communities are required by the government to have a disaster preparedness plan in place. These plans include everything from ensuring adequate food, water and medical supplies are on hand, to transportation arrangements, to having contracts with other communities in place, in case of mandatory evacuation orders. Every community has a reciprocal agreement with another community outside of their area that agrees to house residents and staff in case of an evacuation.
Mandatory evacuations
If a mandatory evacuation is ordered, every resident of the community must be moved to another location. Families may also choose to bring their loved one home, instead of them moving to a different community. However, the family may feel that the continuity of care provided by the staff is too important and choose to have their family member evacuate with the rest of the community. The community that residents are being evacuated to is prepared to temporarily house the evacuees, with adequate supplies of medications, food and other items needed for daily care to "outlast" the storm and subsequent disruptions in services.
When a community must evacuate, the Executive Director of that community communicates with the families and caregivers of the residents to inform them of the evacuation orders, where their loved one will be transported to, and when this will take place. Transportation is secured well in advance as part of the disaster preparedness plan, and staff from the evacuated community accompany residents to the new location, so that residents are with people they know and trust.
Who is taking care of Mom during the natural disaster?
Communities have detailed staffing plans in place prior to storms and weather events. For example, a community will designate staff members who will remain on-site through the hurricane, and designate the staff members who will provide relief, once the storm has passed. This is typically the most effective and safest staffing method for natural disaster events.
Oftentimes, senior living community corporate offices deploy corporate and/or regional based staff to assist the affected communities. Regional team members often move into the community for the duration of the disaster and stay until they are no longer needed. They lend support to meal serving and preparation, hosting activities, and assist with health care needs (if a clinician). The "we're-all-in-this-together" approach is a hallmark of the top senior living providers.
Staying in touch
Executive Directors will let families know if the county government has issued a mandatory evacuation order. The Director shares the plans for evacuation with the families of the residents, and confirms if any residents will be going home with family. Even if an evacuation is not required, the Director still communicates the plan for during the storm for events such as losing power or means of communication. Families can feel confident with the community's plan for these events, and understand that there may be several days of no communication from community leaders.
Getting back to normal
Following the event, the Executive Directors will communicate with the families the impacts of the storm, and let you know when it is safe to visit your loved one again. In the days and weeks after the event, they work with their teams to restore routine operations, reorder supplies, food, and other essential items that were used during the emergency, and repair any damage sustained during the event, as well as general post-storm clean up. The post-emergency period is incredibly busy for staff as they work hard to return to normal operations.
Steps you can take now to be prepared and reduce your loved one's stress
With adequate notice of an approaching disaster, there will be time to pack a "go bag" for your loved one. Pack items such as your loved one's their favorite clothing, a treasured photo, a good book, and anything that will help provide a feeling of home and comfort if your loved one is forced to evacuate to another location.
Schedule a meeting with a professional advocate, such as Senior Care Authority of New York and Southwest Florida, who will help you create an emergency plan for your loved one. Your advocate will work with you to ensure your loved one will be well cared for, and plan for alternative solutions, just in case, and make sure everyone is clear on the plan of action.
When planning ahead is not an option
If you have a loved one who is presently displaced because of a natural disaster, or any other reason, Senior Care Authority may still be able to assist you by locating new living arrangements, coordinating transportation, working with the insurance company, and even selling real estate. Our professional advocates are experts at finding needed resources and ensuring that your loved one is safe, and in an appropriate community based on their needs for care.
Get in touch with us today to schedule your free consultation. You can tell us about your situation, ask questions and gain an understanding of what your next steps should be.
Recent Posts