Meet The Professionals Who Help Families, Caregivers and Seniors
Are you, or someone you care about, declining to the point of needing additional care outside the home? Do you feel overwhelmed because you are not sure where to even begin? Meet the people who will help you figure it out.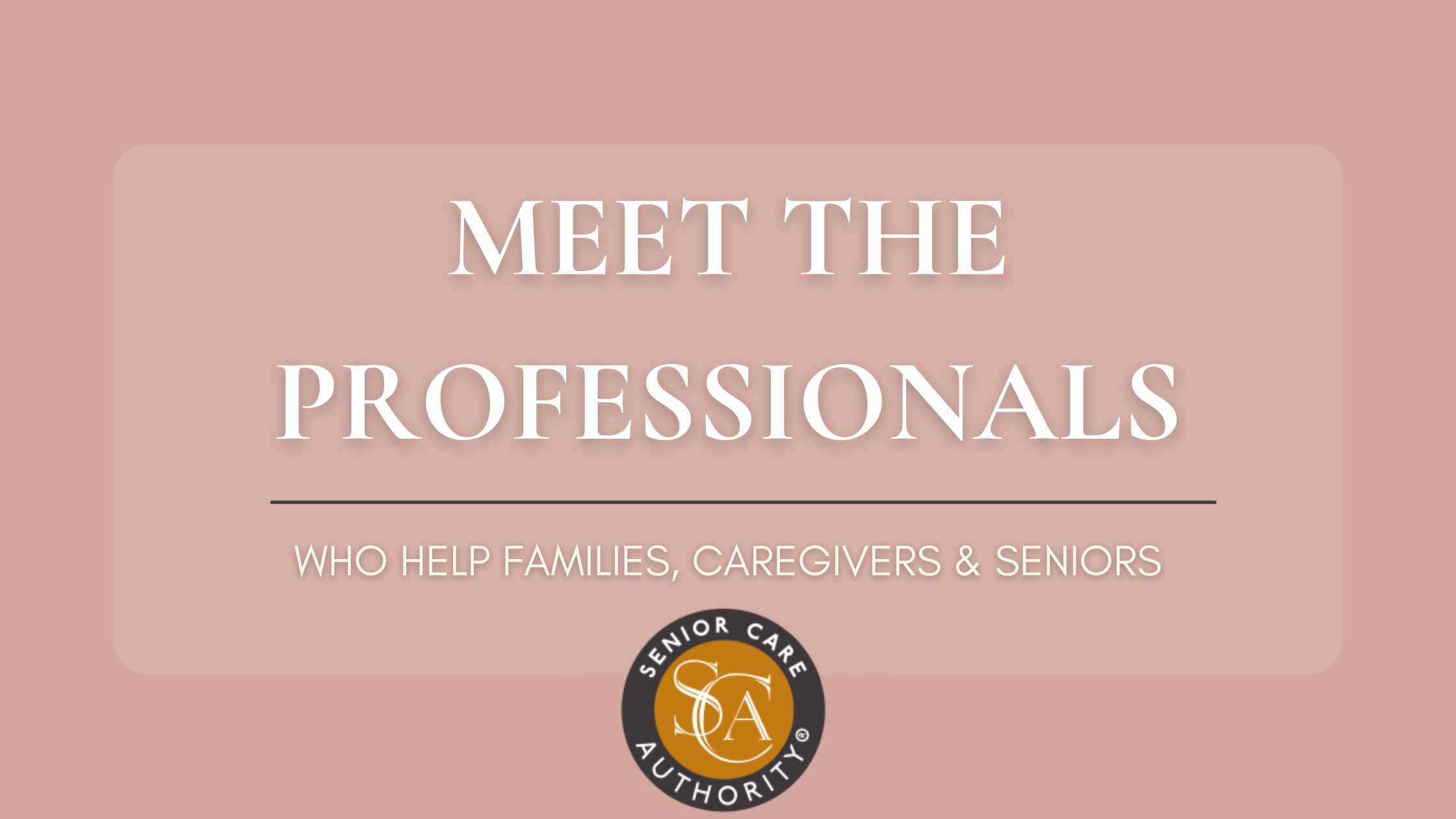 Are you, or someone you care about, declining to the point of needing additional care outside the home? Are you overwhelmed and need help getting started? Or are you not even sure where to begin? It might seem like a monumental task, like you are trying to eat an elephant!
Let's start with the first question – How Do You Eat an Elephant? Answer: You eat an elephant one bite at a time. Sure, you might need some help getting through it. It would be impossible for one person to eat an elephant alone. Luckily, there are people- professionals- who will help you tackle this. They are called Senior Care Advisors.
You are probably wondering what a Senior Advisor does. A Senior Advisor is an elder care professional who helps individuals and families find long-term care solutions, such as senior living communities, assisted living, memory care or skilled nursing for themselves or a loved one.
Most of the time, fees for the help from your Advisor are covered by other entities. In other words, if your loved one moves into community living, you probably will not be responsible for the cost of the search.
There are Senior Advisors around the country who can help you by educating, advising, counseling, mediating and guiding your family to make an informed decision about the next steps for a loved one that may need to transition into a more supportive manner of living.
Why should my family work with a Senior Advisor?
Working with a Senior Advisor can help you work with bite-size pieces of the transition process of moving from a long-term home to an Assisted Living community, when the time is right. Senior Advisors know details about the different communities, are familiar with the staff, any COVID restrictions, and the levels of care available at each. Your Advisor will be able to find the communities that fit your loved ones specific needs and provide the right level of care.
Additionally, many Senior Advisors have been through this with a family member or friend already and understand what you are going through. They guide you through each step of the process, help with paperwork, assist you with dealing with the insurance company, provide support for you and your family and can answer your questions. Working with a Senior Advisor is like working with a really good friend who knows exactly what to do, and knows all the things you didn't know that you didn't know.
How can I find a good Senior Advisor?
Like most, you will probably begin your search online. Once you begin searching, you may find an overwhelming number of options. So, how do you know which ones are good?
Verify their credentials- Professional Senior Advisors are usually a Certified Senior Advisor (CSA) and a member of an industry professional group such as National Placement and Referral Alliance (NPRA). An additional important certification is a Certified Dementia Specialist (CDP). A CDP certification is earned by taking a certain number of hours in additional training, specifically for helping people suffering with Alzheimer's or dementia. To remain certified, they must retake the course yearly.
Check out the website of the advisor you are considering and see what other services they offer. Make sure to read their reviews and testimonials from past clients.
Ask for references- It is completely reasonable to request this. Afterall, you are placing a lot of trust in this person to help you make one of the most important decisions of your life. Take the time to speak with each of the references they gave you.
Look for videos of presentations- Many advisors give presentations on a variety of topics, such as dementia, healthy living or senior services, to give you an idea. If they do not have any posted on their website, try searching in Youtube or Vimeo. Watch and listen to those presentations. It will give you a feel about the personality of the advisor you are considering. This process is very personal and you want to make sure that you understand and trust the advisor.
Ask about their support staff- Are they operating solo, or are they part of a team? You will want to know that when you have a question, you will be able to reach someone to answer it, so that you are not worrying about things unnecessarily.
Make sure the advisor has the ability to work all over the country. We live in such a global society that our loved ones do not always live near us. Sometimes, they are across the country and we need to help them there, even if we cannot physically be there. Your loved one may decide that they want to move closer to you. You will need help coordinating that move. Or perhaps your loved one has always dreamt of spending their golden years in Florida. Whatever the case may be, a good advisor should be familiar with most brands, or can get up to speed quickly with locations they do not know much about, or has an extensive network across the country of like-minded advisors to help.
It is safe to say that most of us do not do our own taxes, cut our own hair, do our own dental work or attempt to buy or sell real estate without a licensed real estate agent. It is wiser and easier to seek out a professional to perform any of these services when you need them.
As such, when it comes to one of the most important decisions in your life, enrolling the help of a professional will make it so much easier. There is a reason elderly care is a profession. There is so much to learn and know, with a good portion of the knowledge coming from experience. A Senior Advisor will guide you through the vast maze of senior living and elder care options and let you go about your life while a professional advises you.
Senior Care Authority of New York and Southwest Florida is a team of professional Senior Advisors who will help you navigate through this phase of life. Our advisors have years of experience helping families find the right options for senior care. We have a nationwide network of Advisors ready to help, as well. We understand that everyone's situation is unique and that your loved one is special. We take the time to get to know your family and your loved one, in order to understand their needs. Your loved one will get the one-on-one attention they deserve from an Advisor who genuinely cares.
You do not need to eat an entire elephant alone. Senior Care Authority of New York and Southwest Florida will help. Get in touch with us today for a free consultation. We will tell you how the process works, answer your questions and advise you on the next steps, so you have a clear idea of what to expect.
Recent Posts