Real Placement Stories- Marion
Senior Care Authority helped Marion find a place that would help keep her active and involved. Find out how!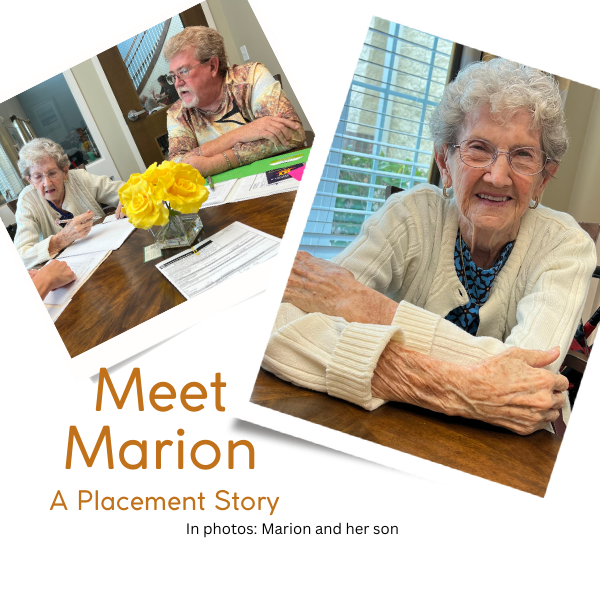 Real Client Stories- Marion
Laura Davis, Advisor at Senior Care Authority of New York and Southwest Florida, recently worked with a new client to assist her with finding a senior living community that she likes and met her needs. Below is Marion's story.
Laura: How did you know it was time Marion?
Marion: My husband and I talked about moving into a community before he passed away. After he passed, I remembered we talked about it and I thought it would be a good idea to be around people and get involved. My kids all invited me to live with them, but I wanted to live on my own. My independence is important to me. I love my family, although I need my own place.
Laura: What did you think about Senior Care Authority?
Marion: My family and I were going 100 different directions until we met Laura Davis. She was able to narrow down the options for us and concentrated on my personal needs. It was a big help. We were able to view communities and pick a place in a shorter period of time, also.
Advice for others from Marion
It felt like home at Bayside. The staff is friendly and the residents are welcoming. Don't be afraid to make a change!
Bayside Senior Living offers independent living, assisted living, and memory care services to seniors. Residents have three options to choose from: studio, one-bedroom, and semi-private suites, all with a variety of amenities. Meals are prepared by some of the State's top chefs and there are daily activities offered to residents. Bayside also welcomes pets.
. . . . .
If you, or someone you know, would like to learn more about the Bayside community and find out if it would be a good fit, contact Senior Care Authority to schedule your free tour. You will be accompanied by one of our Senior Advisors, who will be able to answer your questions and assist you with beginning the process of locating a place that is right for you.
Recent Posts