What to do if you think your loved one has Alzheimer's
6 steps to follow if you suspect your loved one may have Alzheimer's or Dementia to get answers and find support.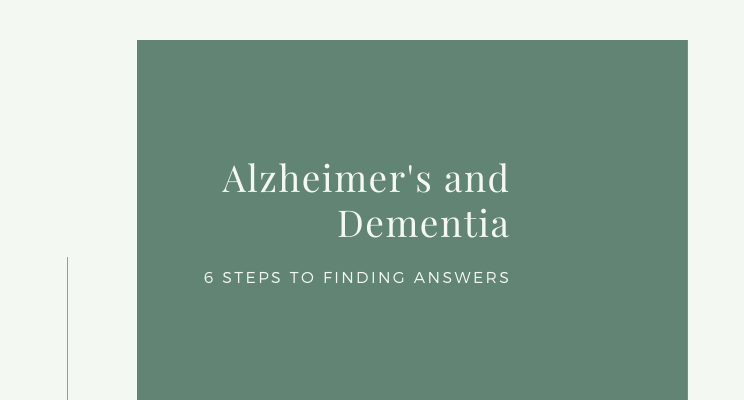 Expert Advice From A Certified Dementia Practitioner
Thinking that someone close to you has Alzheimer's can be really difficult to handle. You're probably feeling afraid, apprehensive, anxious and uncertain about what the future holds. These are all normal emotions to have and it's ok to feel like this. So, what should you do when you suspect your loved one has Alzheimer's?
1. Get a doctor's opinion- Doctor Google will not suffice for an Alzheimer's or Dementia diagnosis. Your loved one should be seen by an actual doctor or specialist for a proper diagnosis. If you're still feeling unsure, get a second opinion. Your loved one may be more receptive to hearing the diagnosis from a doctor, especially if they are the long-time family doctor.
2. Educate yourself- You'll probably do a lot of online research, just be aware that not everything you read on the internet is true. Finding reputable sources is going to be your best place to find legitimate information, recent studies and the latest data. We recommend the Alzheimer's Association, the CDC (Centers For Disease Control) and Medical News Today.
3. Create a support system- Assembling a strong support system is imperative. As a caregiver, you're going to feel very overwhelmed at times. Your support system will be there to answer questions, share experiences, offer guidance and will be an outlet when you need to vent your frustrations. It's important to remember that, no matter how alone you might feel at times, you're not. There are thousands of others who are going through this, too.
Facebook is home to many online support communities where people gather to help each other, get answers to questions and share ideas. Find Alzheimer's and Dementia groups that you like on Facebook and join them. You'll probably find that there are a lot of people experiencing similar situations. Sometimes just knowing others are going through the same thing can be immensely helpful.
4. Seek professional guidance- Many people have no idea that there are professional Eldercare consultants to help guide you through this. Companies like Senior Care Authority of New York and Southwest Florida provide services to help you find assisted living and memory care communities, work as your advocate, will help you and your family come to an agreement on a care plan and solution, perform non-medical in home assessments that will help you understand what the best options are for your loved one, help you understand what your loved one is going through and what you're likely to experience over the next months or years.
When you work with a Senior Care Authority Eldercare Strategist, you'll have someone there for you who has the answers to your questions, will help you navigate the complicated insurance system, and be there to guide you through this challenging time. They can recommend other resources that may be helpful to you, as well. Having someone you can call on anytime who has the answers to your questions and knows what to do will be invaluable to you in the coming months.
5. Review finances-Find out if your loved one has long term care insurance and that the policy is current. Depending on your location and the level of care required, memory care communities have an average cost of $6,000 per month. Insurance policies are often confusing to navigate and difficult to understand. A Senior Care Authority Eldercare Strategist will help you understand the policy and will even act as your advocate if needed. We have reviewed thousands of insurance policies and understand the terms, the fine print, and the limitations and will explain your loved one's policy to you in terms you can understand.
6. Create a plan of action- Having a plan in advance is so much better than waiting until a crisis happens to start figuring things out. Having the support and guidance of a seasoned professional will be invaluable in creating a viable plan. Creating a workable plan will require a lot of different pieces, many you may not even think of. Your Senior Care Authority Strategist will work with you to create the customized plan and even help you get other family members on board, if needed. Just knowing that you have a plan in place will give you peace of mind, even when everything else seems to be spiraling out of control.

There will be times when you feel alone, overwhelmed and at your wit's end. Having the help and guidance of a professional eldercare consultant can make things so much easier for you. Rest assured that there is always someone on your side, ready to help when you need it. Senior Care Authority of New York and Southwest Florida consultants are experienced, knowledgeable and empathetic to what you are going through. There's no shame in asking for help- you'll be glad you did.
Contact us today to set up your free 1 hour consultation.
Recent Posts