Writing Your Own Last Chapter by Miryam Rabner
Though no one wants to think about it, dying is inevitable. Assume that every day may be your last and live it as fully as possible.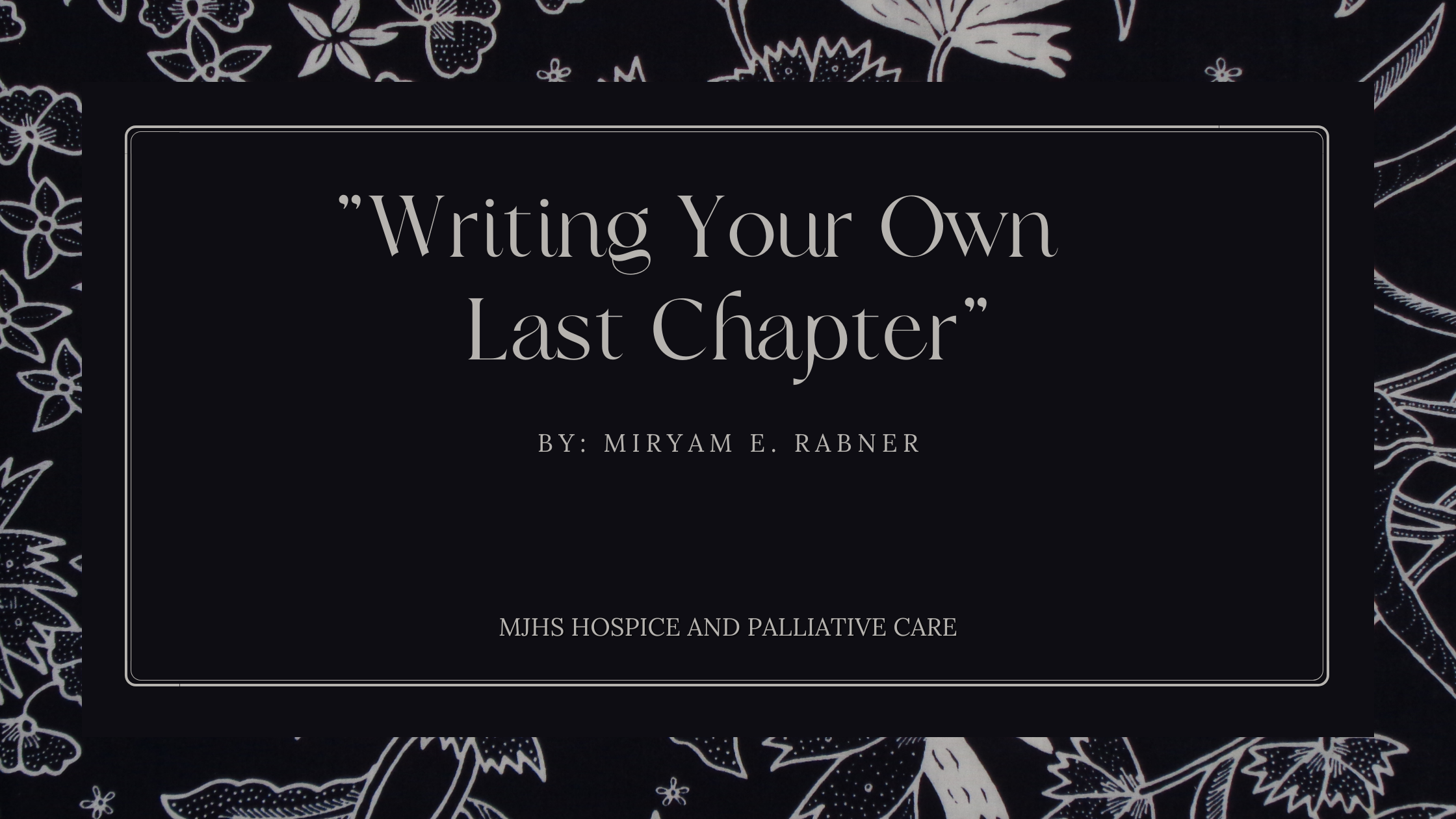 Though no one wants to think about it, dying is inevitable. You will eventually die, without the luxury of having an expiration date stamped on yourself to remind you. Assume that every day may be your last and live it as fully as possible.
All of us should plan our final chapter as soon as possible. Plan to give your family an easy-to-understand game plan for whatever may come up clinically in that last chapter of your life.
Plan now. You have information to gather and choices to make. If you get lucky, your end will be peaceful. If you're not one of the lucky few, because you did not plan, you will likely leave your family in turmoil and with a complicated and messy grief process. Or, have decisions made for you by hospital staff members who don't even know you. Hoping for the best is not a solution. Therefore, you need to choose a health care agent to make decisions for you if there comes a time when you are no longer able to speak and advocate for yourself, due to injury or serious illness.
You need to choose how you feel about quality of life versus quantity, when faced with medical choices. You need to be informed about life-sustaining interventions that can keep you alive, like cardiopulmonary resuscitation (CPR), intubation or ventilator use, dialysis, artificial nutrition and hydration (tube feeding, IV), pain management and overall comfort care. You can even leave instructions about your grooming, personal care and music choices. And, you may revisit your decisions, or choice of agent, anytime and change them by filling out a new form, called a HealthCare Proxy, and/or revoking the original one. You matter, and this is your "show", so you should be setting the stage.
Do you know what all these medical interventions mean? And their implications? Most people do not, and neither do their family members or close friends. So, educate yourself now by discussing care options and their benefits, or limitations, with your physician and/or your faith leader and ask for guidance in making choices and declaring goals. Evaluate the information and choose which options are right for you and reflect your values, beliefs and goals.
Now, set about choosing a health care agent. You can, and should, authorize someone close to you to serve as your healthcare surrogate (agent) to make decisions for you if you become incapable of making them for yourself. Identify a person to serve as your agent and make sure this person understands your goals and values. Have a detailed and honest conversation with any candidate you are considering becoming your agent to make sure that they are willing to take on this responsibility to act under pressure. This will prevent confusion and conflict at a critical and emotionally loaded time and will ensure that your voice is heard, and your wishes are respected. Don't take it personally if that "chosen" person is not willing to take on this role. Not everyone is capable of making decisions for you based solely on your directives. Select and approach someone else, always considering their emotional makeup and ability to make complex decisions in a time of crisis.
If you are estranged from your family, consider reconciliation and healing. If that is not possible, consider identifying a neighbor, a faith community friend, or even an elder care attorney to speak on your behalf, should you no longer be competent to direct your own care. You may also appoint an alternate agent to decide for you if your health care agent is unavailable or unable to act when decisions must be made.
It is imperative that you share your decisions, not just with your identified agent(s), but with all others among your family and friends, so that they will be supportive of your game plan. Set the stage in a comfortable space, gather your family, and share your plan and wishes openly and transparently. Address emotions, including your own, and mediate the objections, disagreements, confusion and pain with this select group of family or friends who might be with you at the end.
Postponing the planning of your end of life will not postpone the reality that it will happen. Many can speak from experience, having done this themselves and having assisted others who procrastinated. There is an additional benefit that comes from planning ahead: Peace of mind. It's a gift to yourself, as well as to your survivors. They will not have to guess whether they did right by you. They honored your wishes. You will breathe easier knowing you orchestrated your own last chapter.
What might otherwise be a nightmare for your family, can instead be a "good" death for you and allow for a normal grieving process for your family.
Here are some suggestions for accessing and downloading the relevant documents in which to name your Health Care Agent. These legal forms will need to be witnessed by two people other than your designated surrogate (agent), but need to be notarized in a select few states, only.
Five Wishes, a document by Aging with Dignity, meets the requirements of the law in 42 states.
Individual state-specific Health Care Proxy form.
About the author
Miryam Rabner, M.Phil., has been a community outreach liaison for MJHS Hospice and Palliative care in the Bronx and Manhattan for the past 16 years. MJHS is one of the largest not-for-profit health systems in the eastern seaboard region. MJHS provides home care services, hospice and palliative care for adults and children, rehabilitation and nursing care, and the research-based MJHS Institute for Innovation in Palliative Care.
Miryam is a guest poster and friend of Senior Care Authority of New York and Southwest Florida.
Senior Care Authority of New York and Southwest Florida offers assistance with end-of-life preparation, planning and care. Contact us to schedule a complimentary consultation to learn more about this and our other services, by emailing info@scanyfl.com
Recent Posts