Real Placement Story - Meet The Fosters
Introducing The Fosters, who recently moved into a Senior Living Community in Florida so they could get the help they need while maintaining their independence. They especially love attending the Florida Everblades games and have attended every one for the last 25 years! Read their story.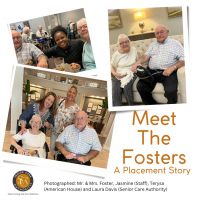 It is our pleasure to introduce you to Robert and Georgia Foster. The Fosters decided to move into Assisted Living because Mrs. Foster has some cognitive decline and Mr. Foster wants to continue to care for his bride of 64 years, but needs some additional support to do so. Their daughters were trying to figure out all the options. "If we knew about your services sooner we would have moved sooner. You really helped our daughters with education and planning to execute this move," said Robert.   
The Fosters met and lived in Ohio where they both worked at the telephone company until Robert opened his own business selling hearing aids. When they moved back to Florida twenty-five years ago they started attending The Florida Everblades hockey games. It is fair to say that Robert and Georgia may be the Everblades most faithful fans. They've had the same seats for 25 years and have never missed a game. In fact, a big reason the Fosters chose The American House was because they wanted to make sure they would be able to carry on this weekly tradition in season.