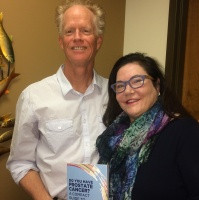 THE AGING BOOMERS: Prostate Cancer – A New Approach
Dr. Emilia A. Ripoll, M.D. has practiced urology and urologic oncology in the Denver metro area for more than 25 years. As an American Urological Association Foundation Scholar, Dr. Ripoll researched genetic predisposition and the role of proto-oncogenes in the development of prostate cancer.
Mark B. Saunders is a writer, editor, publisher, public speaker, and 11-year prostate cancer survivor. As an "active surveillance" patient, instead of receiving traditional treatments like surgery or radiation, Mark dramatically overhauled his lifestyle, and the cancer became undetectable — and hasn't returned since.